6 best Amazon keyword research tools for SEO
Selling on Amazon is more than simply offering the best deal. As the world's largest e-commerce marketplace, Amazon is a complex web of sponsored listings, algorithm recommendations, and SEO keyword search terms that change by region. Amazon sellers need to be up-to-date on the right keywords for their product listings just to stay competitive.
The best way to master Amazon SEO is by using the right keyword research tool. But with so many paid Amazon seller tools, including keyword research tools, it can be difficult to find the one that best suits your Amazon marketing strategy.
Here are our recommendations for the nine best tools for keyword suggestions, so you can tap into your customers' search queries and get your products at the top of Amazon search engines.
1. Ahrefs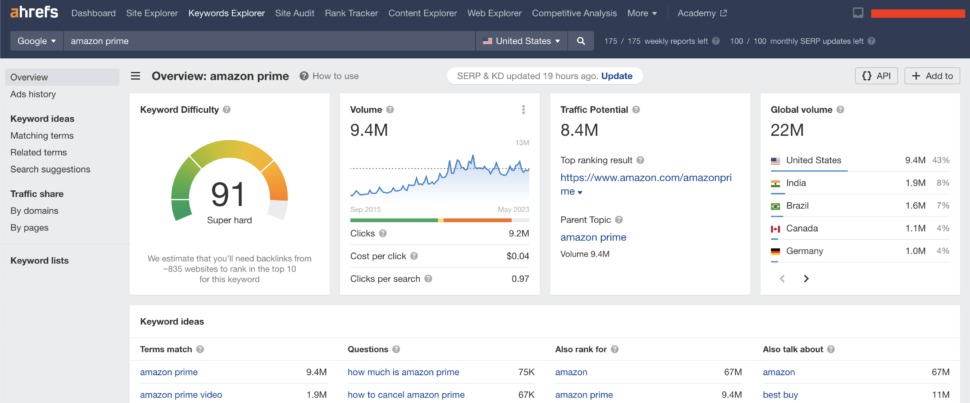 The beauty of Ahrefs is that they specialize specifically in keyword ranking, although not just for Amazon searches. While some others on this list offer a variety of features, Ahrefs is a Amazon keyword research tool through and through. This means Amazon sellers get the profitable keyword data they need, but no extra features like real-time pricing trackers.
Still, as a tool specializing only in SEO, Ahref is good at what it does. Features include analyzing competitors' keywords and site audits, along with traditional keyword suggestions. Ahrefs allows users to check search volume in Amazon, Google, Bing, and YouTube, which makes it a smart choice if your business goes beyond just the Amazon marketplace.
However, these keyword lists don't come cheap. Ahrefs plans start at $99 per month, reaching as high as $999 per month for agencies. These plans limit the number of searches you can do, although the free version lets you use 50 keyword searches as a trial.
Highlights
Focused solely on SEO
Analyzes competitors' keywords
Shows search volume in Amazon and other search engines
2. PickFu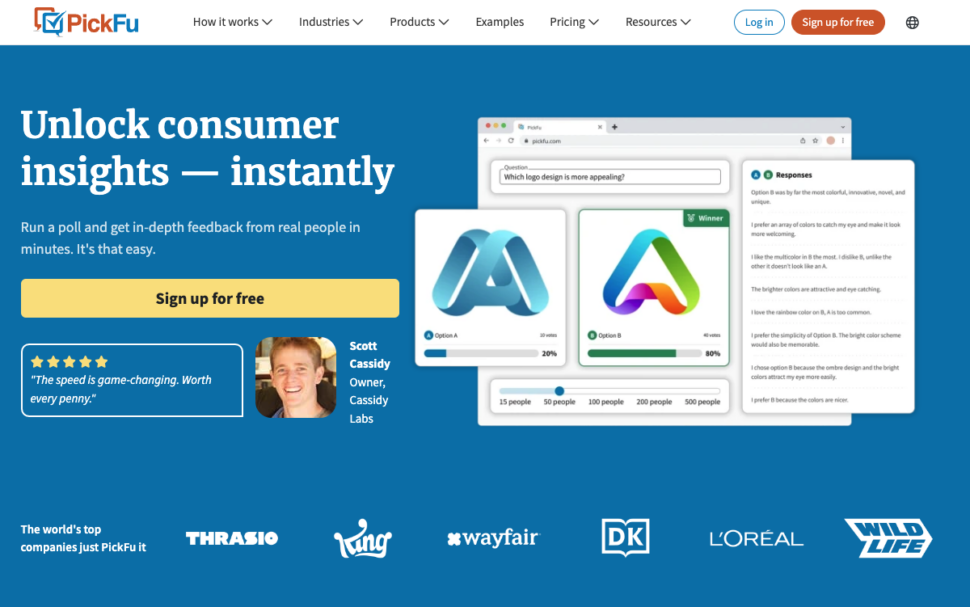 PickFu is not strictly an Amazon keyword research tool; rather, it's a multipurpose tool that aids many different aspects of Amazon marketing, including profitable keyword ideas.
Here's how PickFu works: you ask a question and choose your audience, and PickFu gathers participants who meet your requirements. You're able to hone in on your specific audience, choosing demographics like age, education, or income, as well as more personal details like Amazon Prime users only. Then, respondents answer your question, providing you with direct feedback from your target audience.
PickFu is mainly used for A/B tests, where you can post different picture variants to see which your target customer groups prefer. This makes PickFu ideal for Amazon product research and design, but it can also come in handy for SEO. For example, you can test two different product titles or product description pages to see which your specific audience prefers.
Aside from directly asking what words people use in Amazon search queries, you can also conduct indirect research. Participants are encouraged to leave comments explaining their choices, so you can see firsthand which particular words and phrases your potential customers use to search for your Amazon products.
Highlights
Optimizes all aspects of Amazon sales, not just SEO
Can filter audiences to particular demographics and habits as your customers
Comments give you insight into your customers' thinking, in their own words
3. Google Keyword Planner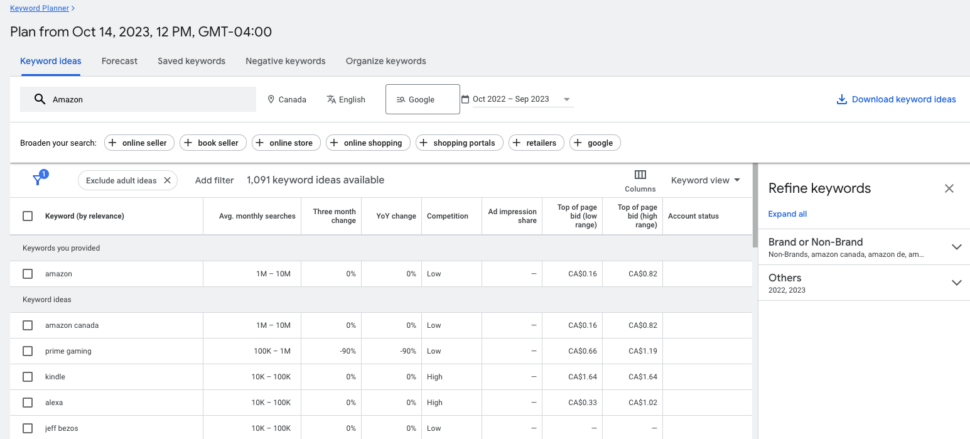 If you're looking for a free Amazon keyword research tool, Google has you covered. The Google Keyword Planner lets you conduct as many keyword search queries as you want at no cost. This is great news for new or struggling Amazon sellers who don't have the budget for more expensive software.
The Google Keyword Planner reveals monthly search volume data and lets you discover popular search terms. It includes all the metrics and keyword data as paid research tools, making it one of the more advanced tools. You do need to have a Google Ads account to use it, but you don't need to maintain any active PPC campaigns, making it technically free.
The downside is that it's not exclusive to Amazon and uses Google keyword data. Amazon search queries have distinct keywords, as Amazon shoppers are more focused on specific products than the general Google user. Still, Google keyword data is better than no data at all, so the Google Keyword Planner is effective until your marketing budget fills out.
Highlights
Free to use with no paywall
Provides detailed analytics
Reveals Google search data as well
4. Helium 10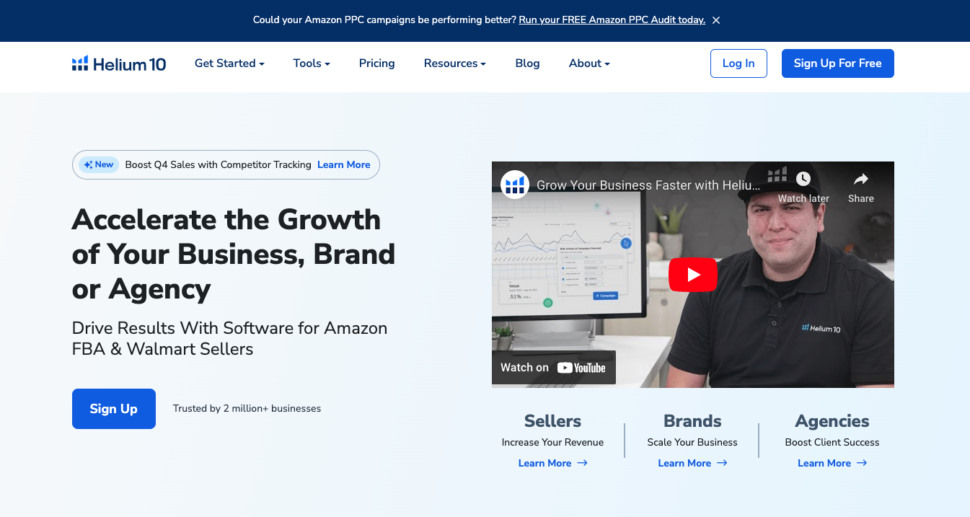 Like Ahrefs, Helium 10 is a focused keyword research tool that only does one thing, but does it well. Helium 10 is a robust SEO tool that analyzes keyword search volume so you can discover relevant keywords for either Amazon or Walmart.
Helium 10 has pretty advanced features, including real-time monitoring with trending keyword data by the hour. It allows you to micromanage your Amazon marketing strategy for more effective CPC and PPC campaigns.
However, also like Ahrefs, Helium 10 isn't cheap, starting at $97 per month. The free version allows for two searches per day, but if you're serious about Amazon listing optimization, you'll need more search queries.
Highlights
Real-time monitoring updates data by the hour
Advanced data good for developing precise SEO campaigns
Works with Walmart keyword data as well
5. Sonar from Perpetua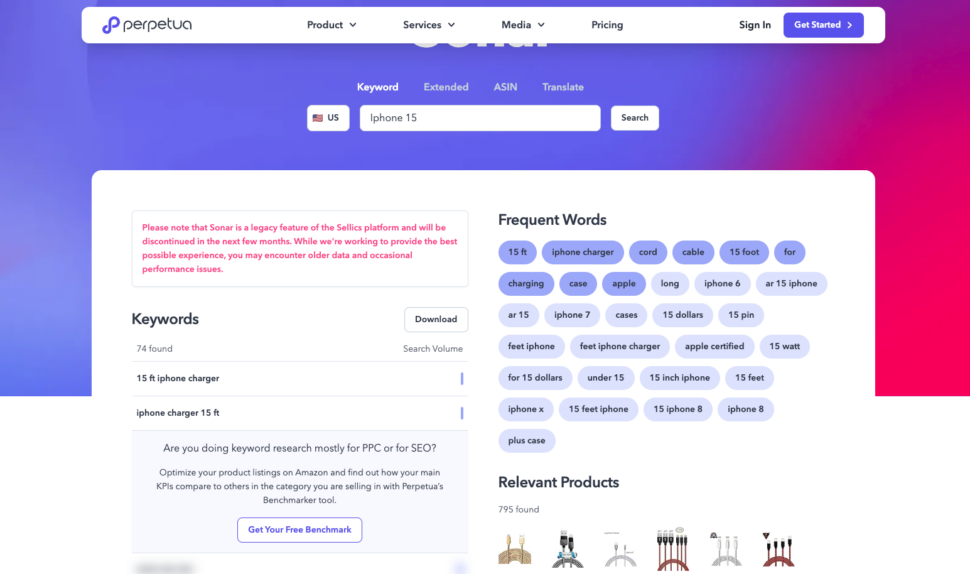 Now acquired by Perpetua, Sonar is one of the best free Amazon keyword research tools available. You won't get advanced details, but you'll find volume data in terms of low, medium, or high for your search query as well as related keywords. Simply type your seed keyword into the search bar and Sonar will give you a list of similar, usable terms.
While not as powerful as other research tools, the appeal of Sonar is that it's both free and practical. It's perfect for a young e-commerce business that's learning the ropes and or starting from scratch with SEO.
Be advised that Sonar is being discontinued in the near future, so take advantage of this free service while you can.
Highlights
Free to use
Simple and intuitive interface
Good for quick, basic searches
6. Keyword Scout from Jungle Scout
In just under 10 years, Jungle Scout has become one of the most trusted names in Amazon software. They offer a whole suite of assistive tools for Amazon sellers, from product research to Amazon PPC management to finding new potential customers. Keyword Scout, its tool specifically for keyword suggestions, is one of the many hats it wears.
Keyword Scout delivers as promised, helping Amazon sellers discover anything from long-tail keywords to backend keywords. And while its features are top-notch, its prices are fairly affordable, starting at $29/month for 30 keyword searches. At $49/month, you get unlimited access to Keyword Scout.
Highlights
Part of a suite of Amazon tools
Focuses on Amazon specifically